Stay tuned as I will continue to bring you more information on the great new practical gadgets I have discovered.
Sue
One of the biggest problems on dive trips is charging batteries. Standard volt meters will give you a false impression that your battery is charged. The best and only way to insure you have a full charge is with a Pulse Load battery tester as show on the right. This tester can measure all types of batteries and give you an accurate reading of how much the battery is really charged. Stop losing shots because your battery died in the middle of the dive.
You can purchase the ZTS Pulse Load tester from
http://www.ulcs.com/
and go to the What's New tab at the top of the screen. This is a must have item for all photo dive trips.
Sue's Practical Gadgets
WIth all the weight restrictions imposed by the airlines today, divers have to come up with a shure-fire method for balancing the weight of dive and camera gear. It often isn't a problem juggling all the packing at home, but it can become a nightmare when packing in a distant location for the trip home. Here's our solution: Balanzza Compact Digital Scale.
It's digital, portable, light weight, ergonomic, easy to use, and can save you high fees at the airport
Displays in Kg or lb. - 100 lbs. or 44Kg capacity
You can purchase the Digital Scale from http://www.ulcs.com and go to the What's New tab at the top of the screen.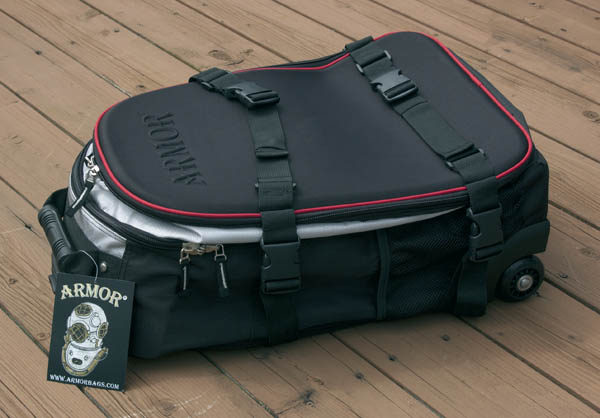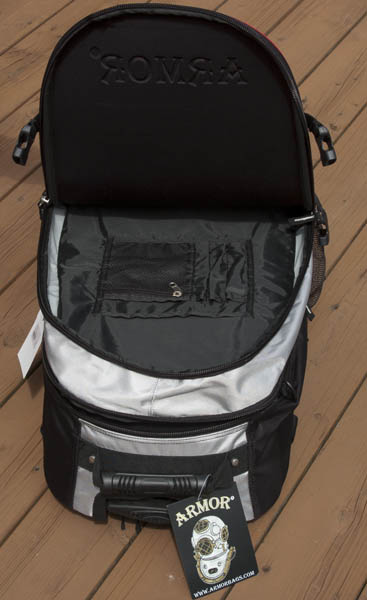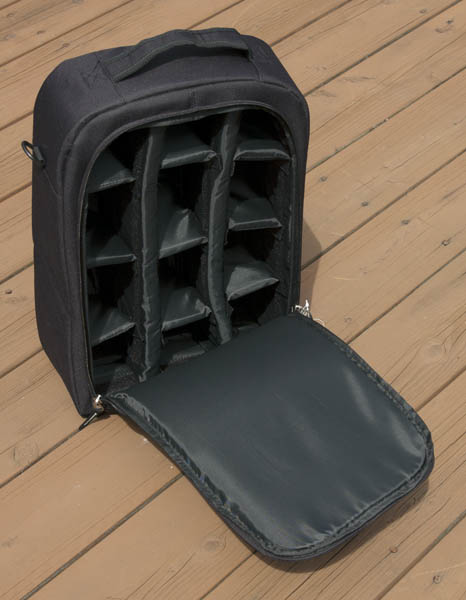 22" roller that fits airline
carry-on regulations
Made of 1680 Ballistic nylon with a molded hard front for extra protection
Telescoping aluminum handle and roller-blade wheels
2 primary compartments, one which holds the (optional) camera bag
The front compartment has a "portfolio" area for pens, tickets, etc.
Hide-away backpack straps
Size: 22x15x10"


Optional camera bag has fully adjustable padding for camera, regulators or computers. Remove it and keep it with you if the airlines decides to check you carry-on
Size: 19 x 13 x 6"
I met with Dave the president of Armor Bags at Dema last year. I told him that underwater photographers were having a tough time traveling with all their camera equipment due to all the weight restrictions. We often carry much of our camera gear on board along with our laptop computer. There have been times when we have had to switch to smaller aircraft where the "airline regulation" size bags will not fit in the overhead. We were very hesitant to hand over our fragile equipment to the baggage handlers. So Dave and I put our heads together and came up with what we think is a GREAT answer. This bag is heavy duty enough to offer great protection, and lightweight enough to carry as a backpack. There is plenty of room in the outside pouch for your laptop, maybe even two if needed. The main interior compartment will easily hold the additional camera bag. It has velcro compartments so you can easily switch configurations. Best of all it is totally self contained. It zips up and has a handle so that it can be removed and placed in the overhead separately on the smaller aircrafts. The whole bag has a great telescopic handle and wheels so you can glide through the airport, or you can unzip the backpack straps and slip it on if needed. We think this is going to be a great bag for all traveling photographers.
For more information or to get your photo bag contact Armor Bags and tell them Sue Drafahl sent you!
Email: armorbags@aol.com
Phone: 1 (813) 764-8844
Toll Free:1 (800) 487-9485
Fax: 1 (813) 764-8855
Write Us:
Armor Products LLC
1402-B Mercantile Ct.
Plant City, Florida 33563